Do It Green! Minnesota would love to hear from you!
---
Contact Form
Use our contact form below to send us a direct message.
---
Call
612-345-7973
---
Mail
Do It Green! Minnesota
Midtown Global Market
920 E. Lake St. Suite G11
Minneapolis, MN 55407
---
Email
---
Getting Here
The Do It Green! office is located inside the Midtown Global Market at 920 East Lake Street in Minneapolis. Our office is located in the lower level, and can be visited by appointment only. To get to the office, go down the stairs past the security desk and through the double doors to the right past the Hennepin County Service Center.
---
Bike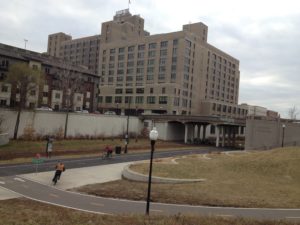 The Midtown Global Market is located off of the Greenway bike trail at the Midtown Exchange exit. Numerous bike racks are available around the Midtown Global Market. A Nice Ride bike rental station is also available 24 hours a day, 7 days a week April–November, or for more information on Nice Ride call 1-877-551-6423.
---
Bus
The Chicago/Lake Transit Center bus station is located on the West side of the Midtown Global Market served by the 5, 21, and 53 buses. Routes 5 and 21 connect with the METRO Blue Line at the Lake Street Midtown Station. Visit the Metro Transit website or call 612-373-3333 for more information.
---
Car
Metered street parking, free off-street parking and a parking ramp are all available if driving. If you park in the parking ramp located on the East side of the Midtown Global Market off of 10th Avenue, you can get your ticket redeemed for up to 1.5 hours with any purchase in the Midtown Global Market.
---
Stay Connected
Online at: Facebook, Twitter, Instagram, LinkedIn, and Google.
---
Contact Us