Accountant
Sara is a Certified Public Accountant; she worked in the public accounting sector for several years and then left to pursue personal interests overseas. Sara randomly picked up the original Do It Green! publication in 2006 after returning to the US and contacted the organization for opportunities to volunteer and familiarize herself with the "green" community. Now, years later she currently serves as Accountant and Co-Publisher. Her other interests involve accounting work for local nonprofits and small businesses, yoga, writing and chasing after her two young children full time. She is deeply involved in the local Minneapolis community and feels blessed to be part of a fantastic organization.
---
Programs Manager
Kristine is a graduate of Beloit College and has worked at a variety of non-profits in Massachusetts and Wisconsin. She is passionate about community issues and sustainability, and is especially interested in recycling, composting and eating locally. Kristine recently joined the Master Water Stewards program through the Minnehaha Creek Watershed District and hopes to fill her neighborhood with raingardens. She enjoys reading, writing, cooking from a CSA share and growing vegetables from seed.
---
Promotions and Outreach Coordinator
Bobbie joined Do It Green in July 2017 as the Promotions and Outreach Coordinator. She is a Master Recycler/ Composter and she recently used a county grant to build a business recycling program for a Minneapolis non-profit. Bobbie also works with Eureka Recycling to manage waste and educate the public about recycling and composting at large twin cities events. She is passionate about waste reduction and limiting plastic consumption, and she spreads that message through social media, blogging and community meetings as an ambassador for Be Zero. Bobbie finds inspiration outdoors. She loves to canoe and hike, and spends her weekends at the farmers market with her husband and baby girl.
---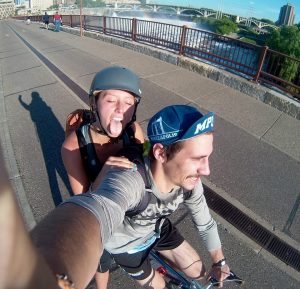 Green Gifts Fair Stage and Demo Coordinator
Cyndi is excited to be joining Do It Green! Minnesota for her second year, bringing her talent and love of movement motivation, environmental consciousness, community outreach, and event planning. She is energized by creating spaces where people gather for entertaining, engaging and enjoyable events. Furthermore, she finds joy in connecting people with the spirit of exploration, allowing them to appreciate all that our earth has to offer and why its preservation should be second nature. Her involvement in environmental awareness is greatly fueled by her father's commitment to social justice and ecological sustainability through his work with Care of Creation. Her spirit animal is a lion: strong as an individual, but much more powerful within community. She prides herself in being a year-long biker in Minnesota. If she's not biking, she can be found gettin' after it with November Project Minneapolis, practicing yoga, tending to her worm compost, reading a book in the sun or…eating (her life philosophy: food is good).
---
Graphic Designer
Olivia House is an up and coming freelance graphic designer from Minneapolis. A recent high school grad, Olivia will be studying graphic design and marketing in the fall at Augsburg College, where she will also be playing soccer. Olivia is excited to climb on board with the Do it Green! Minnesota team and is hoping to learn more about ways she can help conserve the environment.
---
Webmaster
David joined the Do It Green! Team in 2014 as Web & Social Media Manager. David is responsible for the publishing of Web content and managing the social media of the organization. He graduated from the University of Minnesota with a Bachelor of Science in Theatre, Youth Studies, and Communication, where he had concentrations in Youth Policy, Critical Media Literacy, and Audio/Video Production. He serves as Webmaster for Climate Generation: A Will Steger Legacy. David is a certified Metro Skywarn Severe Weather Spotter for the National Weather Service, and is volunteer Webmaster for metroskywarn.org. David is also a member of Theatre in the Round Players in Minneapolis. David is pursuing a Master's of Education in Youth Development Leadership at the U of MN.
---