---
Read Up!
Reprinted from Sarah Lipman thegreenguide.com Musicians have long been catalysts for social change. When it comes to the environment though, the music industry has lagged behind. However, many musicians today are climbing aboard the "green" tour bus. Why should they care? As a whole, the music industry contributes 150,000 tons...
---
Take Action
Download tools and resources to live greener.
---
Blog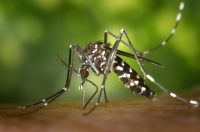 It's already the middle of summer and you know what that means! Outdoor fun can be hampered by annoying bugs. Commercial bugspray is often full of nasty chemicals such as deet, so many people are looking for more natural ways to repel bugs. Natural, homemade bug repellent recipes rely on different herbs and essential oils that have insect repelling properties. Here is a list that can be used individually or as a mixture in the repellent: Lemon eucalyptus oil, lavender oil, cinnamon oil, thyme oil, tea tree oil, citronella oil, cloves, lemongrass oil, cedar oil, catnip oil, geranium oil, mint...
---