---
Read Up!
Alyson Ostenaa Owner, Ecopolitan restaurantI first heard about raw foods two years ago from a friend. He had attended dinner parties in Colorado that served entire meals of fresh, raw, vegan foods. He told me about delicious appetizers, entrees, sauces, salads and desserts prepared without cooking. The chef used blenders,...
---
Take Action
Download tools and resources to live greener.
---
Blog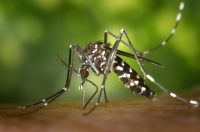 It's already the middle of summer and you know what that means! Outdoor fun can be hampered by annoying bugs. Commercial bugspray is often full of nasty chemicals such as deet, so many people are looking for more natural ways to repel bugs. Natural, homemade bug repellent recipes rely on different herbs and essential oils that have insect repelling properties. Here is a list that can be used individually or as a mixture in the repellent: Lemon eucalyptus oil, lavender oil, cinnamon oil, thyme oil, tea tree oil, citronella oil, cloves, lemongrass oil, cedar oil, catnip oil, geranium oil, mint...
---